Jump into our 1942 DH82 Tiger Moth WWII Trainer aircraft and relive history!
Take Flight!
A FLIGHT IN A WWII ERA DH82 TIGER MOTH IS AMONG LIFE'S MOST INCREDIBLE EXPERIENCES:
Feel the thrill of flight in a Tiger Moth.
See spectacular views of the magnificent Saskatoon and area.
This experience makes for a wonderful gift or a great opportunity to add a little adventure to your own life!
Gift Cards available at the museum or buy a gift card online
A vintage WWII flight gives you the chance to step back in time and experience the joy of flight in a legendary fighter training aircraft as it was at the turn of the 20th century.
Jump into our 1942 DH82 Tiger Moth WWII Trainor aircfraft and relive history!
Details
Flight time includes passenger briefing, take-off, and landing, approximately 20 minutes in the air.

For your planning purposes, we only fly Wednesday to Saturday!

Tiger Moth
30 Minute Flight – $350
CALL OR EMAIL US TODAY TO BOOK YOUR TIGER MOTH FLIGHT!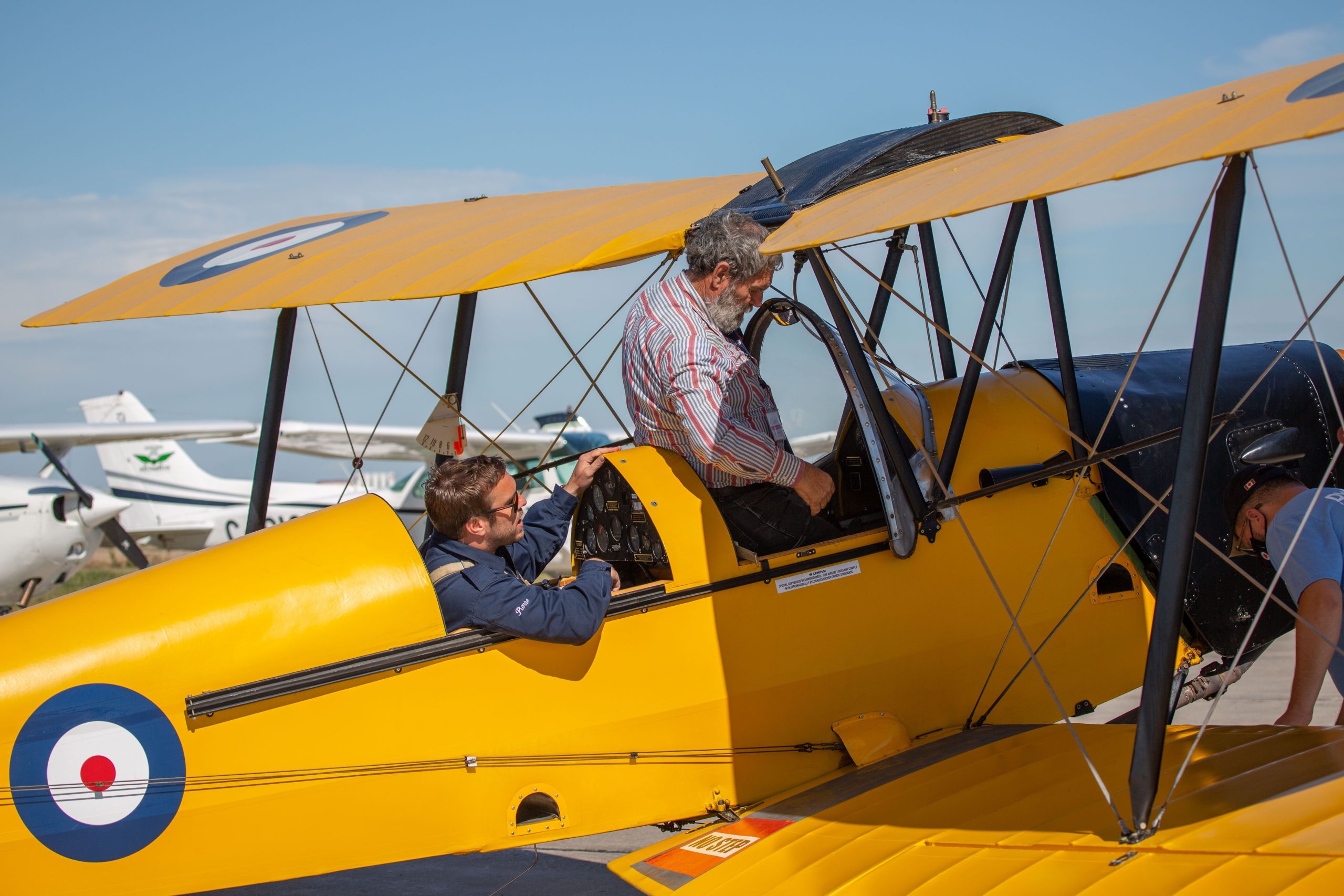 WHAT'S INCLUDED?
Admission entry into the museum for passenger only

during normal business hours. (excludes special events ie: Annual Aviation Days)

Pre-flight safety briefing by our experienced pilots and ground crew.
Flight experience is 30 minutes long and includes 20 minutes of actual flight time.
WHAT TO EXPERIENCE?
Your pilot will take time to briefly explain the basic principles of flight and how the aircraft reacts in the air.
Brief history of the aircraft and its role in the British Common Wealth Training plan during WWII for pilots.
Your friends and family will have plenty of time to take your photo and join in the experience.
While they may not see all of the flight, they will be able to see you get strapped in before waving you goodbye, and watching you take off and land in the Tiger Moth or Harvard.
PASSENGERS?
Passengers are restricted to those 12 years age and older who are capable of understanding the aircraft safety features and the emergency procedures to be conveyed to them during the preflight briefing.
All Passengers 18 years and over must sign a "Waiver and Liability Exclusion Agreement" prior to the flight taking off. For passengers 12 to 17 years age an accompanying adult must sign the "Waiver and Liability Exclusion Agreement".
Flight Day: how to prepare
On the day of your flight:
Please arrive at the Saskatchewan Aviation Museum 20 minutes prior to your scheduled Flight.

Sign in at our Front Desk. A general release "Liability Waiver" will be presented and is required to be signed pre-flight.

If your flight is unable to take off due to weather/wind conditions, your flight will be rescheduled to a later time or rescheduled to another date.

Please be aware you'll be climbing onto into and out of the aircraft please wear reasonable footwear for safety.
How to Find us
Our museum is NOT accessible from the main airport terminal, but at the following address:
5 Hangar Road, Saskatoon, SK S7L5X4
Hangar Road is accessed via 47th Street from Avenue C North (turning opposite the RCAF Memorial Park parking lot), or from Wheaten Avenue off of 45th Street West.